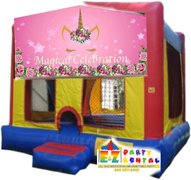 Magical Celebration Bouncer
$185.00
Dimensions: 13 L, 13 W, 13 H
Outlets: 1
Monitors:
Magical Celebration Bouncer
Modular Bouncer featuring Magical Celebation Cartoon Characters Graphic Banner. Large Module House Jump, over 200 square feet, perfect for all size gatherings of friends! Classic styling, economical pricing and interchangeable art panels make the Module House a must-have revenue generator for every family entertainment, rental and amusement business. Inflatable jumps are one of the most popular amusement choices because they are loved by children, healthy, simple and cost-effective. Bouncing puts you in a state of health and fitness, improves your sense of balance, provides an aerobic effect for your heart, strengthens your muscles, increases the capacity for respiration, and results in a better mental performance.