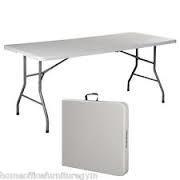 Rectangular Tables
$10.00
Dimensions: 6x3
Outlets: 0
Monitors: 0
Need a place to hold presents, food or a somewhere to eat? Here's the answer. These Rectangular 6' tables seat 6 adults comfortably or 6-8 children.
Note: If you Want Our Delivery Service The Prices Started $25.00 & Up Depending on the Distance!
Note: The Rental of Chairs & Tables is for 1 Day, The System will be Charge you for 1 Day, in the Event that the Client wishes to Rent the Chairs & Tables for more than 1 Day, They will be Charged additional Cost per Every Extra Days!!
we not Set up any Table or Chair that is another extra fee for ea. Item!!